After Sales...
The sales is finally over : )

Only those whom work there before and those who came during the weekend sales period know how bearly this can be. No time to eat, no time to go to washroom, no time to pump and no time to change the kids. Those little time we do have was used to feed them (cannot let them go hungry).

Ah Wei is finally 5 months, he is able to flip, sit, "talk" to us and rock by himself on the FP rocker.

He is so far so good, never really bother us. Most of the time he will sit by himself in the rocker and watches me over the counter, sometimes he will smile and makes conversation with the customers. The limelight is always with the sister, however, his little guy is slowly making his charm.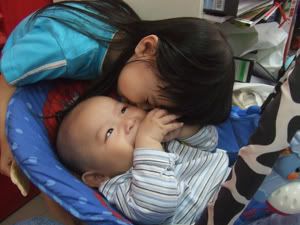 The gal was getting more and more restless. She climbs up and down the stairs, forces leavelets to the customers, sometimes even tried to sell them stuffs.


She hurt herself on the lips while monkeying around the shop.