KL Trip Again
Daddy have to make another trip to KL again for his we based biz. We chop chop booked the hotel just 2 days before going. This time was another 4 days, 17-20 Nov. The bags were a bit dampl after washing from the Bali trip.
This time Vincent have to spend most of his time in meetings and trainings, so we have decided to get a hotel outside of KL's Golden Triangle (after the major traffic jam we've got on our last trip), and yet this hotel should be near the basic ammenities. So we have decided on
Boulevard Hotel
. Its ajoining the Mid Valley Megamall where I can go shopping and eat. Its also better looking than the Cititel next door.
We couldn't get the kig-sized bed that we have requested as the hotel was fully booked due to the car racing rally. However, the hotel promised that they would changed if there was avalible room, which they did on the second day. The duty manager pulled me aside when he was helping us with the move, and asked me seriously why we wanted the change. When I told him that it was becos Edlynne keeps going to fall off in the single bed and she also keeps knocking on the side of the baby cot when she turns and then cried, he breathed a sign of relieved. I guessed he must have thought that there was something very wrong with that room.
The hotel room was clean and everything in tip-top condition. The traffic was smooth and easily accessible, although the parking was a bit difficult. I would greatly recommend this to anyone going to KL.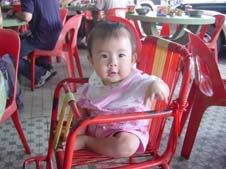 Edlynne in her first baby seat.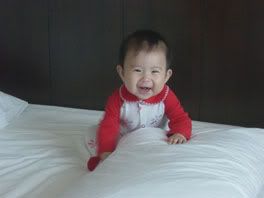 Edlynne finally got her king-sized bed!
Edlynne awake to the camera and yet Daddy still sleeping...