Singapore Trip & First Trimester Test
I've scheduled a meeting with Dr Selina for the First Trimester Test on Tuesday. We started early so that we can go do the long term social visit pass for Edlynne. Its still dark at 5am when we left and reached JB at 9am. But alas, Daddy's passport was overdued and we only manged to find out at the Singapore custom. An officer was sent to escort us out of Singapore, so "malu". I made my way back for the tests.

NT scan shown baby to be very normal and low risk of Down syfrome. Present of the nasal bone also confirmed this. Later Dr Selina went on to scan its head, heartbeat (my first time hearing the heartbeat although I've been to many scans in KL), limbs and then its gential parts. Dr Selina confirmed 80% that its a boy.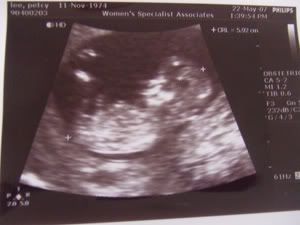 Finally finshed and reached JB at around 3pm where I saw Daddy and little gal waiting for me at City Square.

We left JB shortly and instead detoured to Air Hitam and Batu Phat as Daddy wanted to visit a fren and also to view the town. Took us quite a while to enter and exit the North-South Highway. We finally reached home at about 7:30pm and in time for a Ba Kut Teh dinner
: )