Raya Holidays (Part 1)
We have a 4 days holiday during Raya. Tuesday was our usual closing but Hari Raya was on Wednesday and Thursday, then we also took one day off on Friday.

We took the days and went back to Singapore...



Mother & Father decided to hold a birthday party for Ah Wei although his birthday falls on 15 Nov. Auntie Sally got him a big "1" 3kg cake. Mother booked the Pavilion 1 at Parkview and its just next to the children playground. All the cousins have a great time at the playground.

Po Po with Ah Wei
Ah Wei with Daddy
Ting Ting "xiao" Ben Ten
Got them these watches at Taka while waiting in the queue got sarcastic remarks from a lady behind. She was commenting to her boyfriend that I shouldn't get such thing for a child...
Cousins
The food
Ah Wei's cake
Trying to wake Ah Wei to cut the cake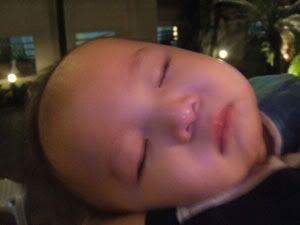 Sleeping Ah Wei
Blur Blur Sleepy Wei
Finally a family foto
: )