3 - 18 Jun, KL Trip ( Part I )
This was a care-free trip as we need not book any rooms nor packed a full bag, just a few pieces of clothes, Edlynne's milk and food.
Didn't know that they break down the Causeway into SIR & LTA areas...
Most of our time there, we spend on shopping for the house to make it more liveable. KL's mall are hugh and we can just spend a day walking inside.
At Ikea
Our place,
Edlynne watched Sesame Street & High Five on the old computer that we've bough along, while daddy hung the curtains
I've assembled this two Ikea's chair
And washed clothes
We've bought his filter. Water for Edlynne's milk was from here, then boiled before offered to her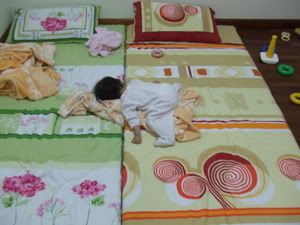 Our bed
Then we've got this small TV for Edlynne
Edlynne looking for us in the bathroom
The house is now considered liveable after putting up the curtains, connected phone-line (which we have a hard time looking for the TM point), a new home alarm system, plumber for the new sinks and air-con servicing and gasing. There is just one more thing. The roof of the master bedroom toilet was leaking whenever there was a heavy down-pour and we are still waiting for the repairs to be done.
Water dripping when heavy rain
In addition to the looking around for shoplots, we've also started looking at potential future home and schools for Edlynne.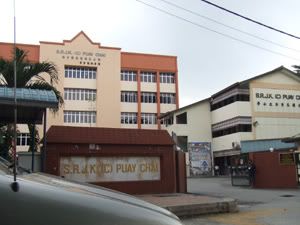 Pei Chai at SS2 was one of the choices
Daddy prefer to send Edlynne to a Chinese school and then English lesson at some institute. We are looking to enrol Edlynne in Lorna Whiston after we shifted over as they take in 1 year old too.