Shopping Day
Lion dance at Vivo City
Little gal fell asleep at Vivo City and most of the Robinson (Centerpoint) shopping, but wakes up when I'm going for the underwear fitting. She then demands to go with me.




At the underwear fitting room, she keep saying "xiu xiu" (shame shame) and fingers to her cheeks.
For dinner, we joined the family at Marina Square. It was packed there, have to wait for half and hour before our turn.



Look Look!



She loves the decorations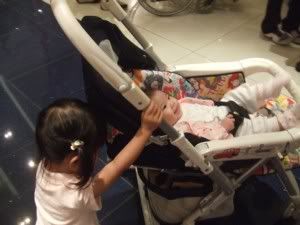 Driving Miss Cherry



Cousins



We have "Yu shan" again as the Wan Yuen Hou one was no good



Edlynne took over the pram