Hari Raya Trip (13-14 Oct), Part 2
Day 2, we started driving at 9 am, from Kangar to Pandang Besar. We then entered Thailand. The Thai custom was a bit funny, we were made to park on the side (where there wasn't much of a parking space), then daddy get down, filled in the forms and submitted for us. We need not go down. Meanwhile, there were cars and motorbikes that wheez us by. They were either Thai vehicles or those with special passes. We were very naive to think that Hatyai is on the other side, but no, thats nothing on the other side, no shop, no nothing...


So we followed the sign to Hatyai, it tooks us one hour to get there. Meanwhile, all these time it was raining on and off. Sorry for the lack of fotos, as it was raining and we were confused with the big Thai words, tiny English road signs. We don't have a map, most of all, we don't have any Thai Baht with us!

We drove around in Hatyai and finally I managed to get a map from one of the hotels. We managed to find our way back to Sadao (Border) and then back to Malaysia via Bukit Kayu Hitam. Again, its a bit confusing in the Thai custom. This time we need to get down. There were lots of eatries and shops next to the custom, then there were the tour group people and the people from the vehicles. Seeing my big tummy, one of the Thai officer processed our passport first. Actually, lots of Malaysian just parked their vehicles along the Highway in Bukit Kayu Hitam and walked to the custom, then Sadao for some shopping, they made up most of the crowd.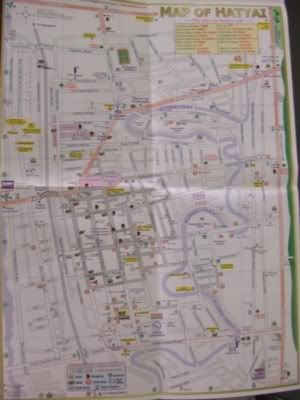 Map of Hatyai


After that, we headed home, stopping for lunch in Butterworth and some diaper changing in Ipoh. Its closed to 7 pm when we finally reached PJ.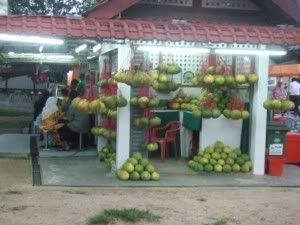 Ipoh's pomelo