NZ - South Island Trip Day 12 (15 Mar)
Hanmer Springs -> Christchurch
Its was too warm yesterday for Vincent to take the thermal bath, so we decided to take this morning instead. Its raining and Vincent was quite please.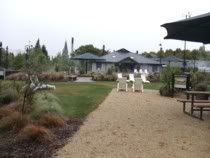 Hanmer Thermal Springs
The swimming attire costs NZ$4 each and the private pool for NZ$17 per person. We dipped in our private pool for half an hour before proceeding to test the outdoor pools. It was quite disappointing after we have tried the Polynesian pools in Rotorua.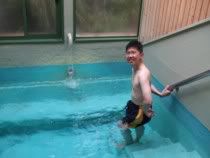 Vincent in our private pool
We refused to pump any gasoline in Hanmer Springs as it was quite expensive and instead proceed back to Christchurch hopping to find some less expensive one on the way. But las, they were either not cheap or closed. Luckily the fuel sign only light up after we entered Christchurch.
We needed a motel for two nights before moving in the Air New Zealand compliment hotel for the last two nights. Managed to get one in Northcote for NZ$75 per night :)
Then we spend sometime walking around in Catherdral Square and also to book the hot air balloon ride for tomorrow.