Family Trip to KL
Now everyone must be thinking... KL again?! Initially its was planned to be Port Dickson but the hotels were fully booked there and thus KL. And you must be thinking why only go for two days? Me too, quite angry about that actually. The reason was very simply... its been 5 years since we have bought the cerfiro and time to change, so before we get the new car, which is another cerfiro again, Tan Chong should give us a loyalty bage for buying so many Nissan. Till now, we have got two cerfiros, one fairlady and one sunny. So before the change, father suggested to go somewhere with the old car, thus this trip.
We started at about and by the time we reached the second link custom, its was so packed. Spend two hours plus in the traffic jam.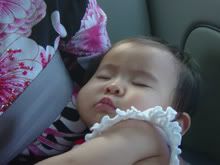 Thats how that little gal spend her time in the car, playing, eating, sleeping.
We reached Subang Parade about and only then we manged some lunch. Brother have planned for us to have steamboat for lunch... now you must be thinking... steamboat for lunch in Malaysia?! So hot?! Anyway, Vincent don't like steamboat, so we settled in a noodle house opposite.
After lunch, we proceed to the hotel, Sunway resort and hotel. It was a beautiful hotel and we have four suites. Two pairs of connecting rooms. Mummy and second aunt decided to take the room next to us. After resting for a while, Vincent and I decided to try our luck to see if we could get tickets for Narnia. We drove to Midvalley Mega Mall which have 18 cinemas, while Edlynne was left in their care. We managed to get the 12 minight tickets which was good as Edlynne will be sound asleep by then and we will open the connecting door, so mother can hear her if she cries (which is very rare).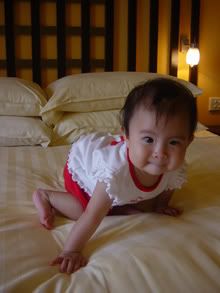 Edlynne enjoys the bed.
The second day, we splited after breakfast. Father and First BIL decided to stay in their room until time to check out. Second BIL and family decided to visit the sunway lagoon. Vincent wanted to visit The Curve again with mother and second aunt joining. So we checked out.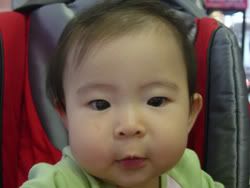 That little gal scratched herself.
X'MAS at The Curve!

Edlynne keep looking at the kids riding, so Daddy let her ride for a while after they were gone.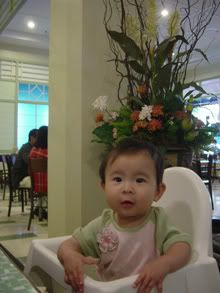 Lunch at The Curve. Edlynne cried after the waiter left without anything for her.
We started our way back after spending some time in Ikeano and with another 2 hours traffic jam in the Causeway custom, we managed to reach home at about 9pm.